As my adventures continued out of the LA concrete and back to the Pacific sand, i felt the nomad within come to life. I've spent the past 2 days riding waves and exploring South LA County and all through the OC coast. Many many good vibes...and a few bad.
El Porto, Manhatten, Hermosa, and Redondo are all South LA surf communities with ample sand bottomed waves. Palos Verdes is a peninsula with a diverse coastline and infamous localization. Stories of rocks being thrown at outsiders walking down steep cliffs and car vandalism are rampant. Supposedly the PV Police usually turn a blind eye. The rumors worked because most surfers stay away. The area, however is strikingly beautiful.
Palos Verdes
I reached San Clemente last evening and met up with Scott Alexander. Scott took over the OU Surf Club when the founders graduated. He now lives 100 yards from the San Clemente pier and has a sweet gig working for Quicksilver. His hospitality is much appreciated. We surfed the Pier until sunset and then grabbed some super tasty fish tacos from Pedro's.
San Clemente Pier
I woke up today and headed directly for Trestles. Featuring friendly, high performance surf and close proximity to the surf industry: this place breeds progression. The waves were waist to chest high and very glassy. I surfed Lowers for awhile and then paddled to Uppers for a few less-quality/less-crowded waves. I learn so much here because the waves peel perfectly down the cobblestone point.
Lower Trestles
The railroad trestles that make the place Trestles.
Infamous Trestles surf wax graffiti
The next stop on the journey will forever be remembered as a non-Ocean (although it became strangely Oceanic) hightlight of my whole trip. I went to the Laguna Art Museum to check out an exhibit entitled, "Heart and Torch: Rick Griffin's Transcendence." Surfer, artist, psychedelic guru. I have been staring at Rick Griffin artwork in Ohio for years. To be in the presence of his original work was incredible. It was the greatest collection of anything i've ever seen. I will cover the exhibit in a future post.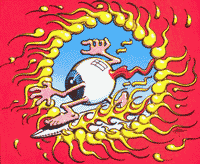 Next i met Scott in Huntington Beach, where he gave me a tour of Quicksilver International Headquarters. It is a huge compound with a large skate bowl for lunch breaks and concrete floors for inter-office skate sessions. Interesting perspective on how a large surf conglomerate operates.
Then i entered the belly of the beast: Huntington Beach Pier...the court ordered "Surf City USA." The place makes me sick to my stomach. It has history, but $$$ came along stole most of its soul. There are some small pockets of the purity left, I only hope they can survive. I will certainly tackle this issue in depth sometime soon. I attended the International Surfing Museum and rode my skateboard through town.
Huntington Beach Pier
Preparing the South side of the HB Pier for the circus that is the US Open of Surfing.
International Surfing Museum- HB.....very very old boards.
HB
HB- These are all made of stone.
Duke Kahanamoku- HB... Strange dynamic here as the greatest all-time waterman is surrounded on the sidewalk with a junk sale from a corporate surf shop. I will write more on this later. Where did all the soul go? Riding waves with friends and enjoying the ocean: it is so simple.
My final OC stop was the long stretch of jetties and piers known as the Balboa Peninsula in Newport Beach. At the southern most end lies a spot known for breaking necks and dragging unsuspecting spectators out to sea. It is known as The Wedge and it can be as heavy as any wave on the planet. Not much water moving around today, so i swam out for a rousing round of "Log" and some dry-sand shorebreak bodysurf toobs.
The Wedge-Newport Beach
The Wedge gone nuclear.
There is a blackball on hard surfboards during summer days, so The Wedge is left to the bodysurfers and bodyboarders...probably actually better off that way. People would die. These waves are breaking in about 6 inches of water.
The Wedge today
I'm headed into San Diego tomorrow. The OC was another interesting adventure. It is all very aesthetically pleasing: the women (although there is enough silicon around to drown us all) and the geography.